Weekly Newsletter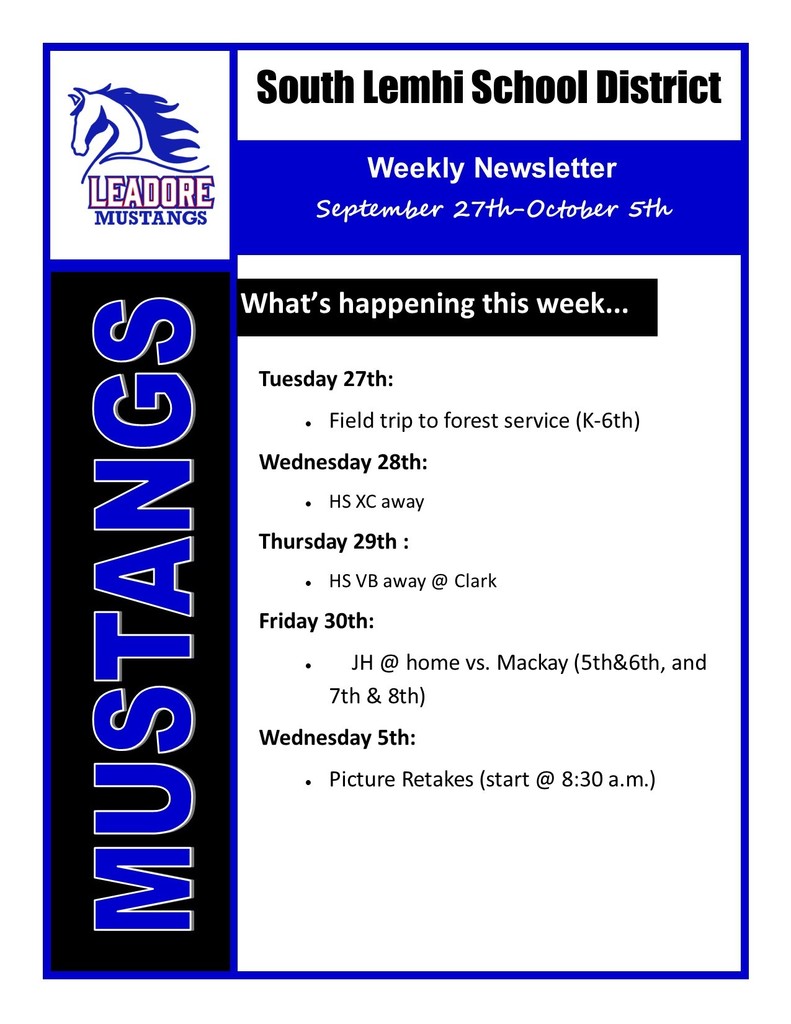 As most of you are aware, we have hired Casey Garcia as an ag teacher this year. He is trying to get the FFA program going again and would like to visit with the parents of the students interested in participating to pass along information about FFA. He invites you to visit with him tonight between home games in the Ag classroom.

Senior Night is tonight! Games start at 3 p.m. Tri meet vs. Sho-Ban & Watersprings BLACK OUT THE GYM and show your support for the Volleyball Girls!

Immunizations have been canceled for tomorrow September 22nd. Sorry for any inconvenience. Watch for a reschedule date.

Newsletter 21-28 September 2022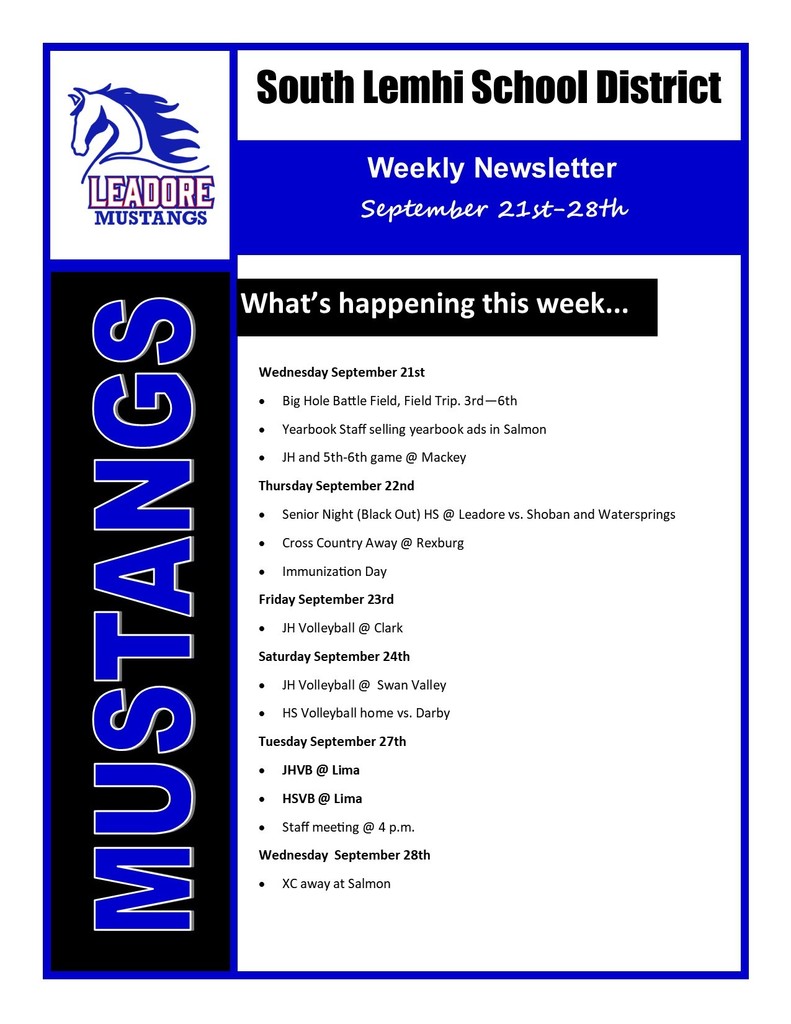 Tomorrow, September 20th Volleyball Games Breakdown 7/8 Volleyball @ Home vs. Salmon 3:30 p.m. HS Volleyball @ Home vs. Challis JV: 5:30 p.m. Varsity: 7 p.m.

Get ready for some volleyball action. Beginning this Saturday, the Lady Mustangs will be home for their next 4 games! Come support the Mustangs by cheering them on, helping line judge, and even selling concessions! (Cross Country will be in Challis, so we are experiencing person shortages) Thank you. Go Mustangs!

I've just been informed that IRI testing will be deferred to Thursday this week because of the delayed start tomorrow and School Pictures.

Reminder: Picture Day is tomorrow September 14th. Retakes will be October 5th.

14th - 21st September Newsletter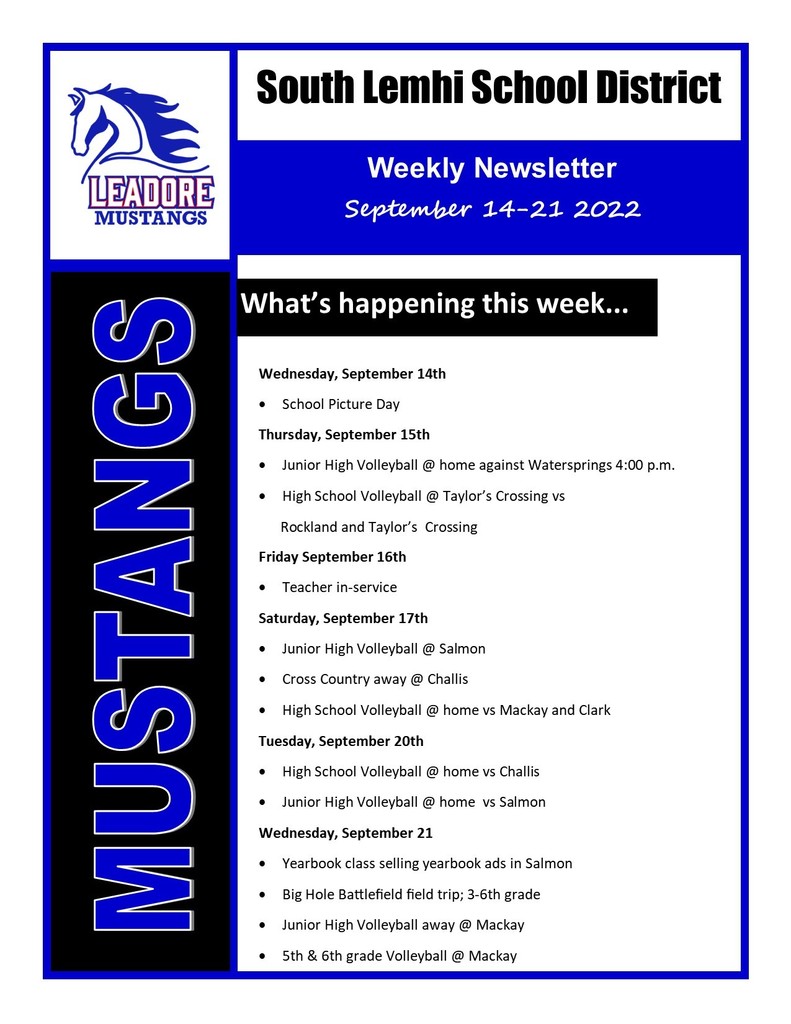 Senior Night is September 22nd! Support our senior girls by helping "Black Out" the gym!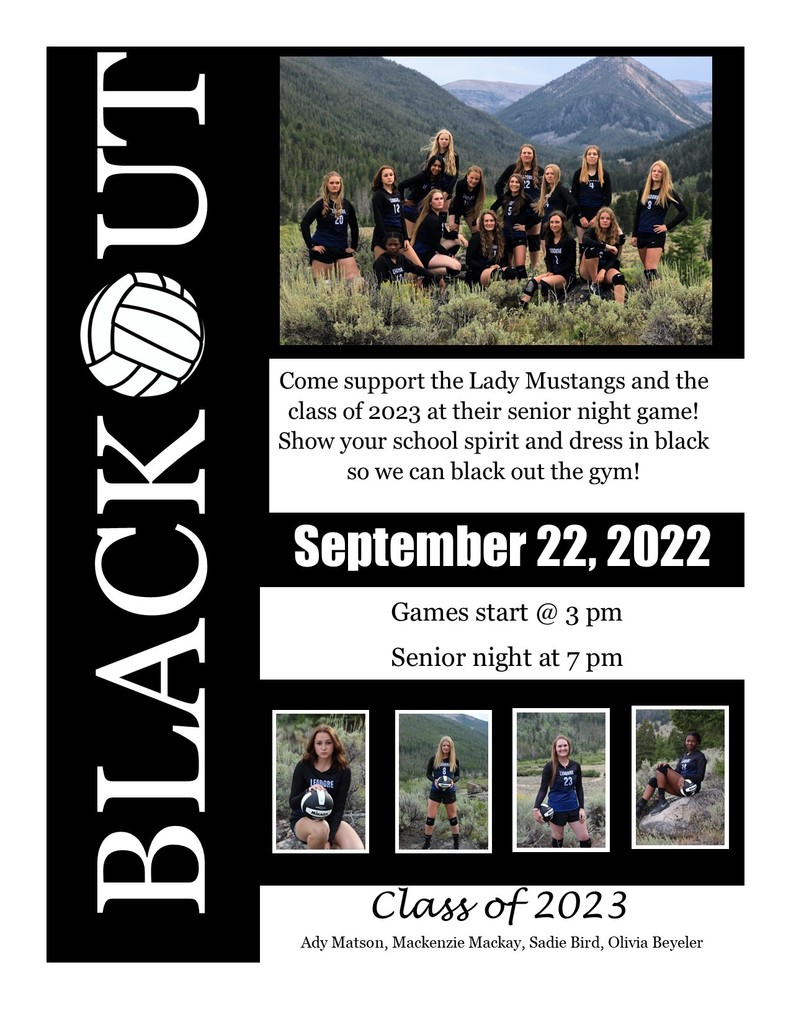 Back to Schoo Night is Tonight! Join us for Back to School Night. We will be introduceing our new teachers, new programs, goals of the district and some necessary information that is "need to know". Anyone in the community is invited to attend. If you have questions or suggestions for school or district improvement, we would love to have your input. This will be an amazing year so join us tonight between 6:30 and 8:30 to meet teachers, socialize, have some pizza or sandwich (while supplies last) and get ready for a great year!

Newsletter 6-8 September 2022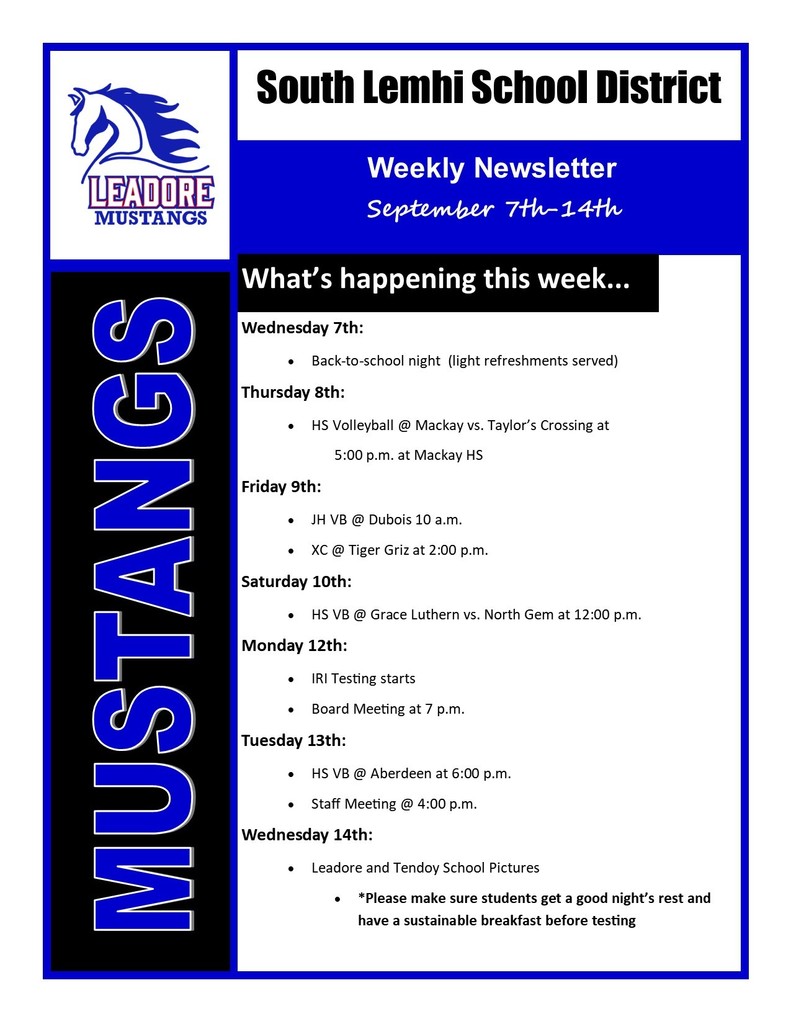 Leadore Back-to-School Night is Wednesday, September 7th. 6:30 - 8:30pm. Light refreshments will be served.

School picture day is Wednesday, September 14th.

Updated bus schedule is on the website and Facebook. Bus are leaving 3:55pm this year.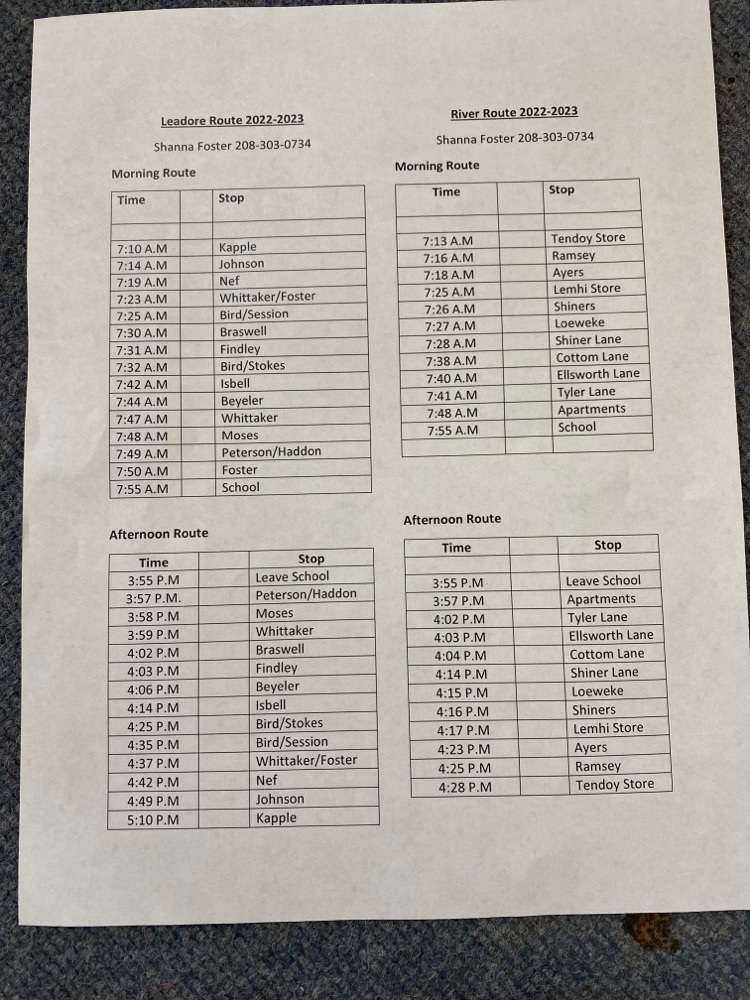 School starts tomorrow! This is a reminder that the Leadore Bus Route begins at 7:10am and the River Route begins at 7:13am. Also, this year the Leadore School will release at 3:51pm with buses leaving at 4:00pm.

Our Volleyball teams have been working hard and are looking forward to a great season! Please come support them this Wednesday as they play against Aberdeen. We have some exciting home games scheduled- hope to see you there!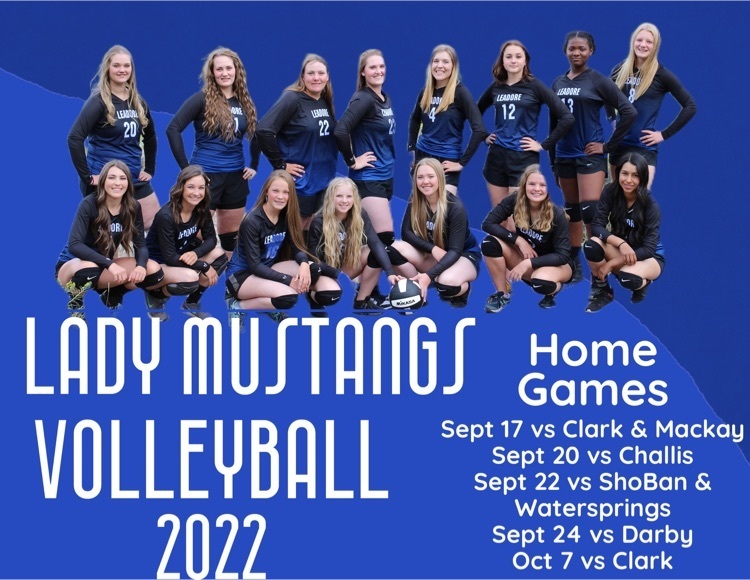 School is about to begin, so make the most of the last day you have of summer vacation! If you just can't wait to start, take a look at the New and Improved Daily Schedule! After months of searching, we have hired an Ag Teacher. Please welcome Mr. Casey Gracia from Lubbock Texas. The schedule has been modified to accommodate the new courses. We realize that this change is last minute. We don't want you to feel like you need to rush to modify your schedule in one day. We have a plan. Please review the updates and be prepared to amend your schedules (if needed or allowed since some classes need to be taken for credit towards graduation) on Tuesday. Thank you.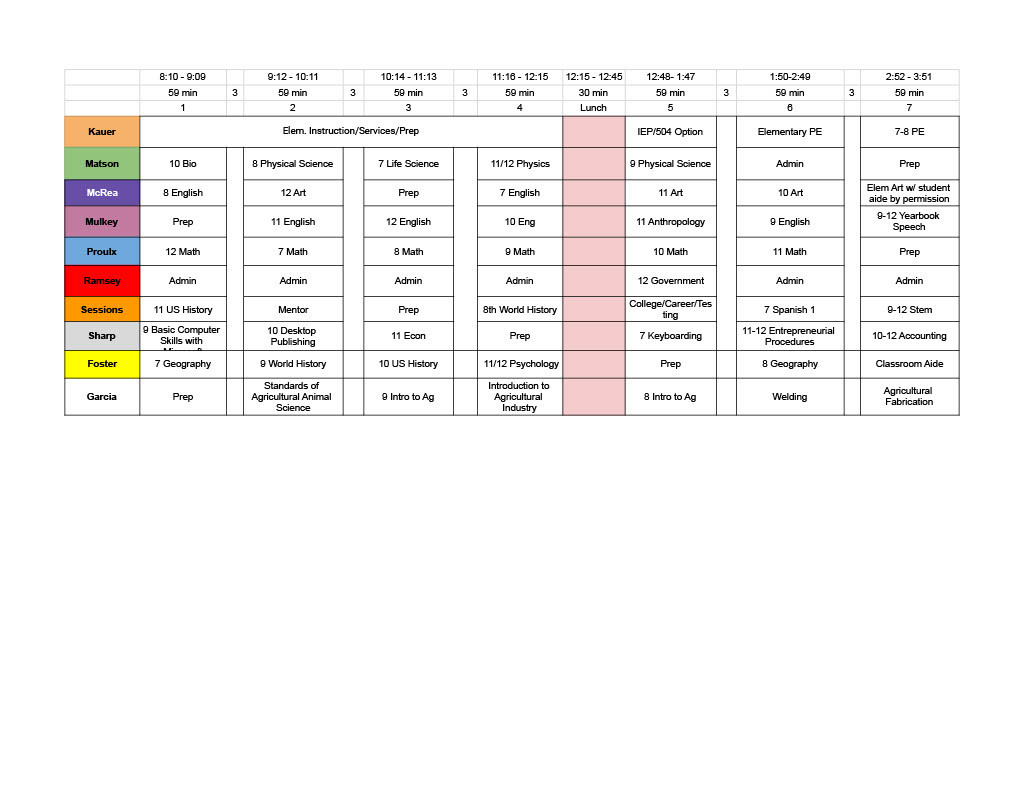 First week dress up days!