Here is the Girl's Basketball Bracket. Please note that all games will be played at the high seed.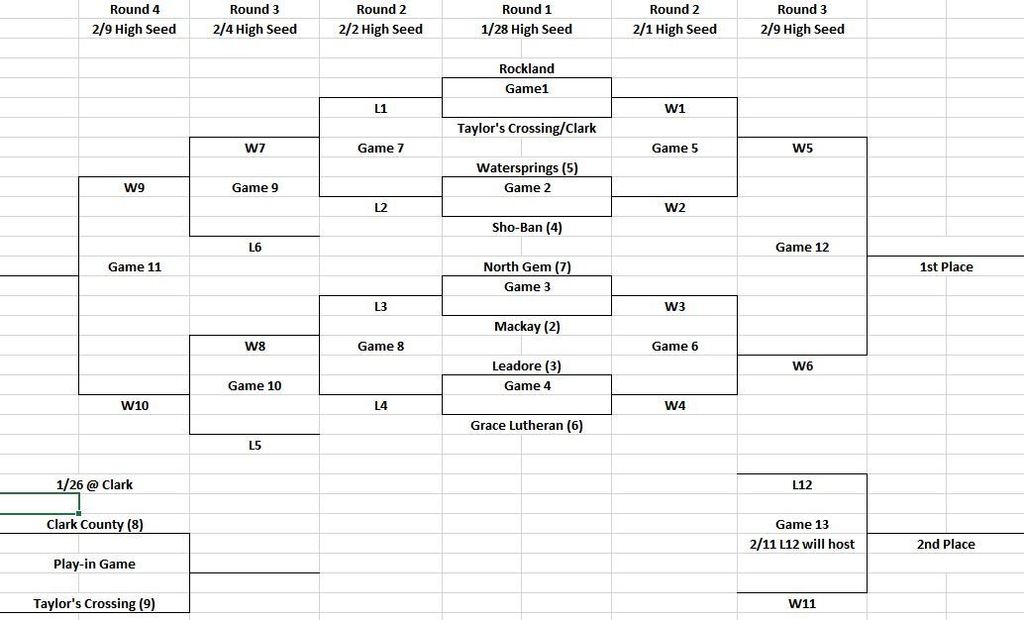 Packets for the Maverick Ski Trip, scheduled for Feb. 10th and 24th, will be sent home today. Please fill them out and return them to the office by Januray 31st. This trip will be for Elementary students grades K-6. If space is available on the bus once packets are returned, higher grades may request attendence. For questions, please contact the office at 208-768-2441. Thank you.

Weekly Newsletter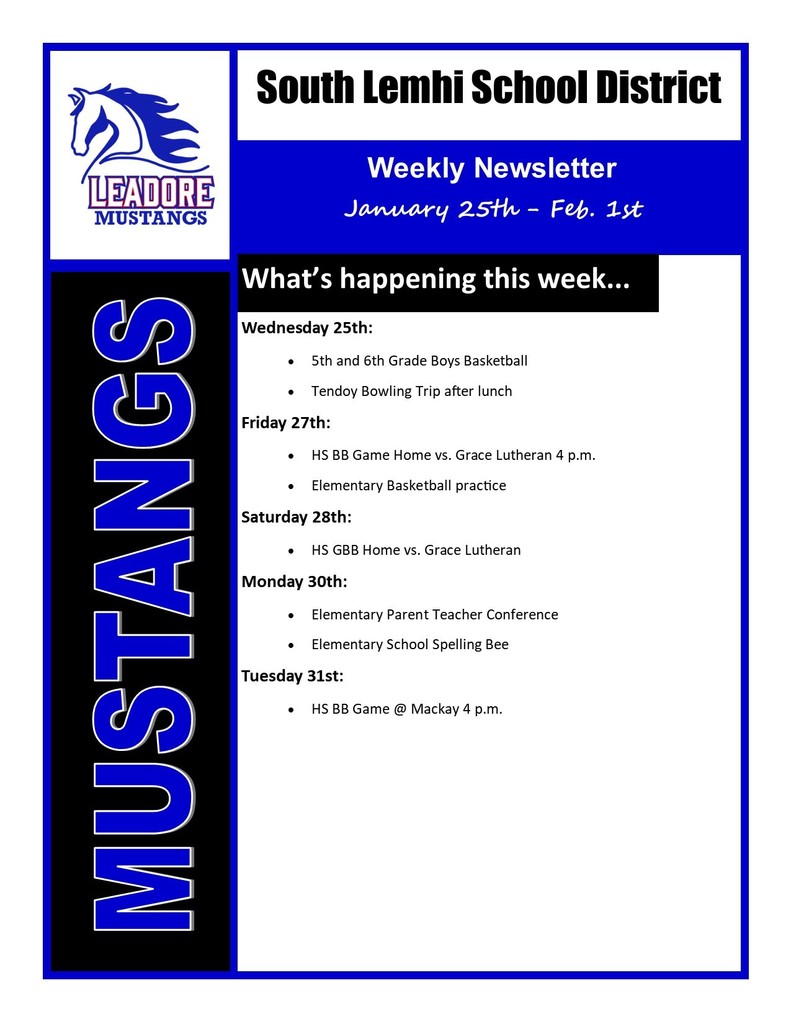 Mustang vs. the Bears. Boys play first at 4:30. Girls to follow at 6 tonight. Watch all the action on the Leadore Mustangs YouTube Channel.

The boys and girls basketball game will be streamed on the Leadore Mustangs YouTude channel. Mustangs vs. Miners!
https://youtu.be/Q7skDgjNEYY

Elementary Spelling Bee January 30th. Contact Mrs. Kauer for more information.

There will be Elementary Parent Teacher Conferences, January 30th 4-7pm. Contact the school for more information.

It's a "BLUE OUT" (fans are asked to wear their BLUE gear) night this Saturday, January 21st, as the Leadore Mustangs take on the Mackay Miners. JH Boys 1pm. JV Girls 4pm. Varsity Girls at 5:30pm. HS Boys at 7pm. It is also Boys Senior Night! Hope to see lots of fans there!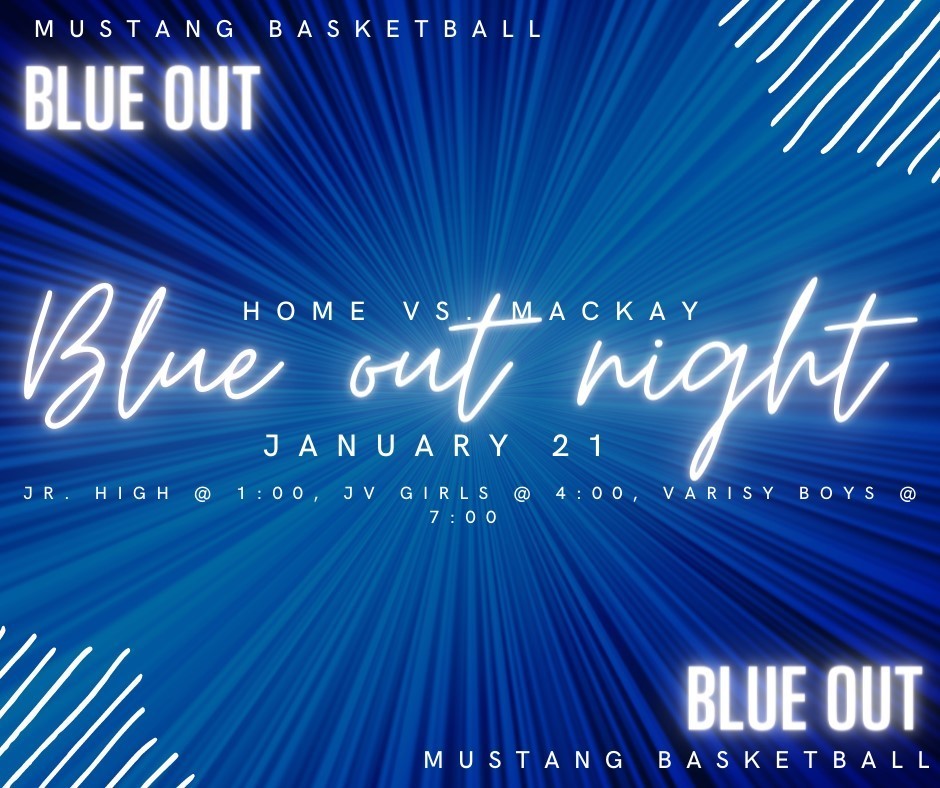 Weekly Newsletter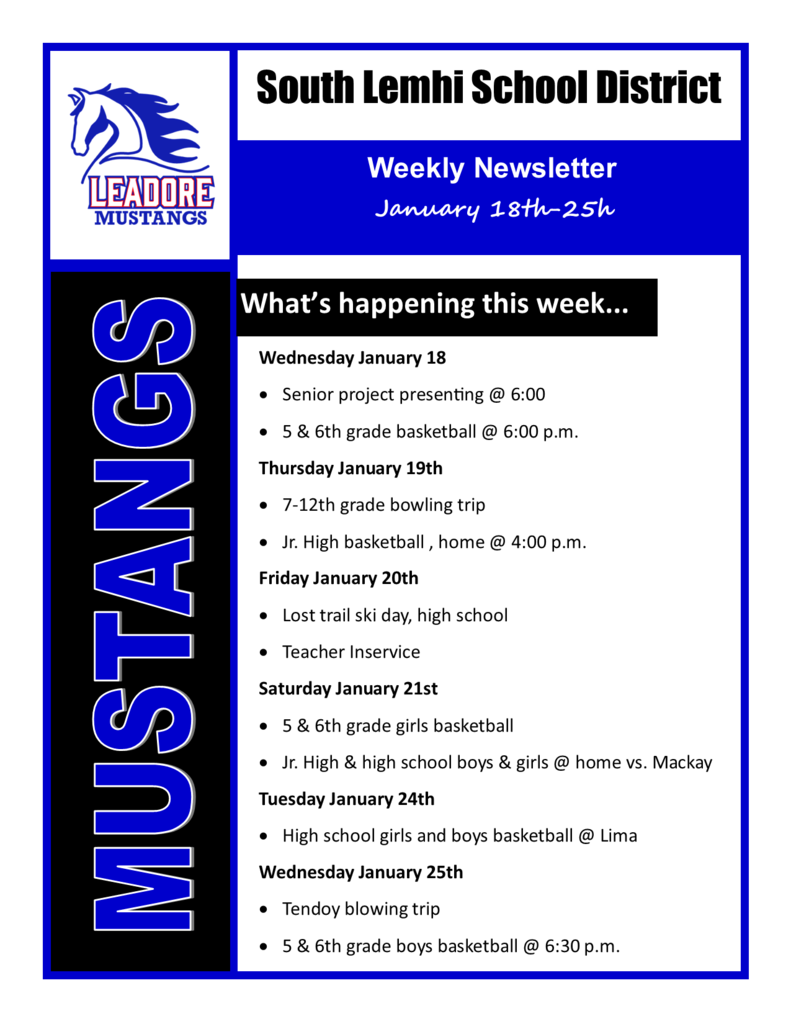 There will be no elementary basketball practice tomorrow, Saturday the 14.

Weekly Newsletter January 11th- 18th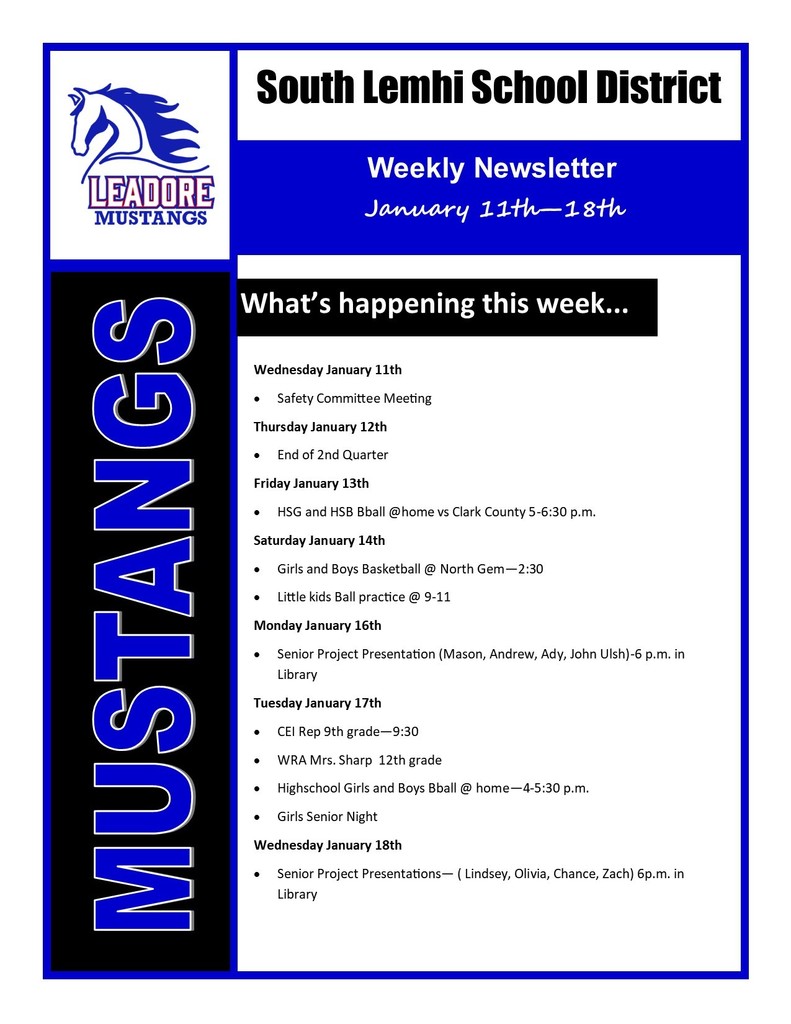 As a reminder, because of the delayed start this morning, the Leadore school will not be serving breakfast.

Due to weather and road conditions, the district will have a delayed start this morning. Classes will begin shortly after 10am. Please be safe.

Newsletter for January 4th-11th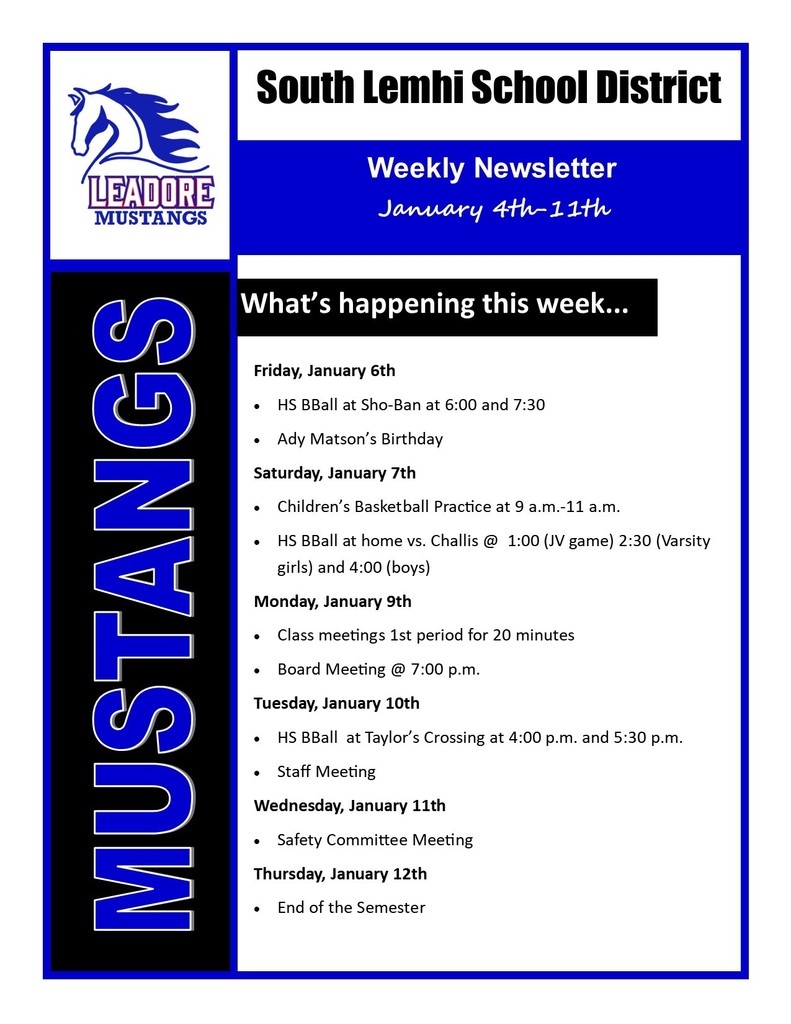 The South Lemhi District will be cancelling school this Thursday, December 22 because of weather related issues. We are aware of the pending temperature drop and want to reduce any traffic as well as any exposure concerns that you may have because of the recent forcast. In addition, the Leadore Elementary will hold their Christmas Program at 4:30 tomorrow, December 21 so we can enjoy the preformance and end with the hopes of arriving safely home before too late. We are sorry for the cancellation but hope to error on the side of caution. Thank you.

Weekly Newsletter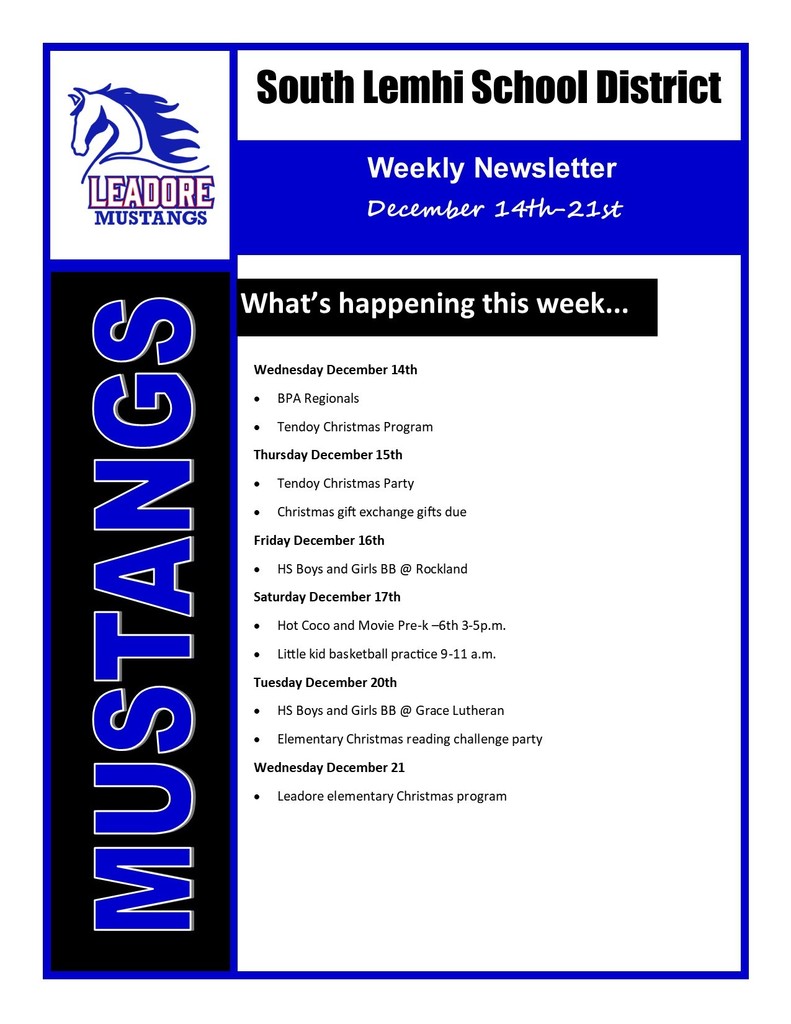 Due to the road conditions, Lima will be unable to make the trip for tomorrow's High School basketball game. The only day that we could make work for both teams is Monday, December 19th at 4 p.m. & 5:30 p.m. (Girls followed by boys). We are sorry for any inconvenience and hope that everyone will understand.

The JH girls have a game tomorrow at 11 am in Leadore. We are in need of volunteers to ref that game. If you are interested and willing to help please contact, Janet Proulx. Thank you!

Weekly Newsletter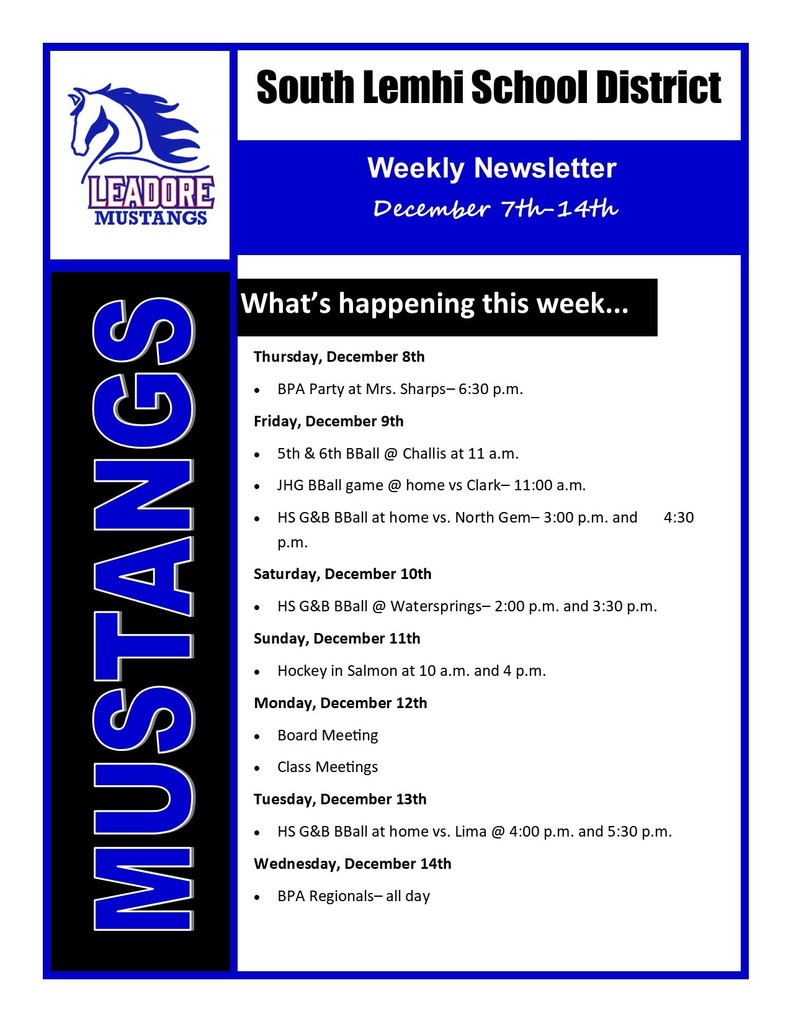 Support the Leadore FFA!