There will be a Pot Luck Dinner at the Leadore Community Center December 6th at 6:00 PM. Everyone is invited.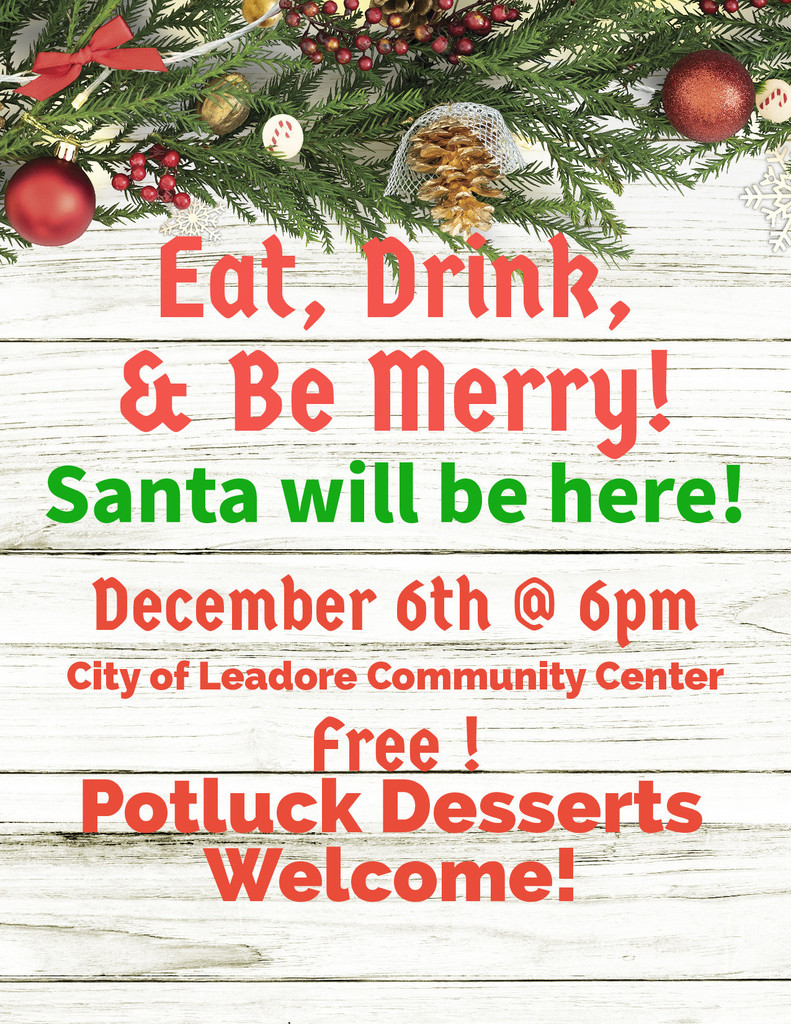 The JH Girls basketball game in Challis will be played at the old gym.

Hot Chocolate and Movie Night for the Elementary on December 17th at the High School- see the poster for more details!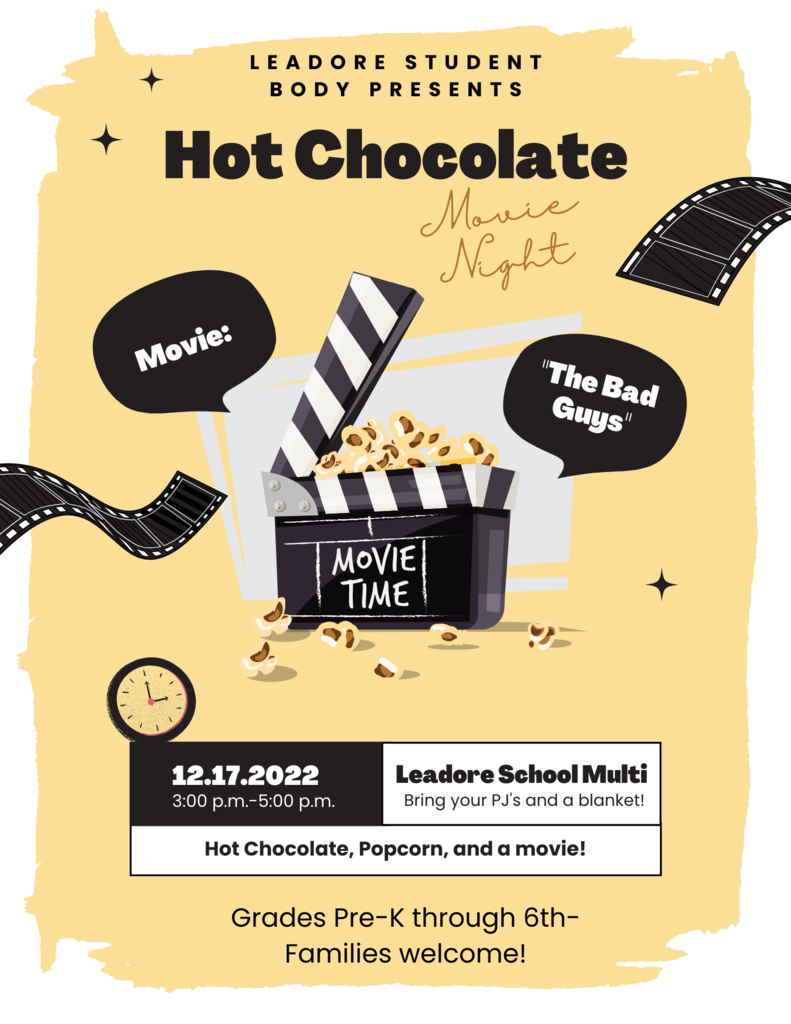 Weekly Newsletter for November 30th-December 7th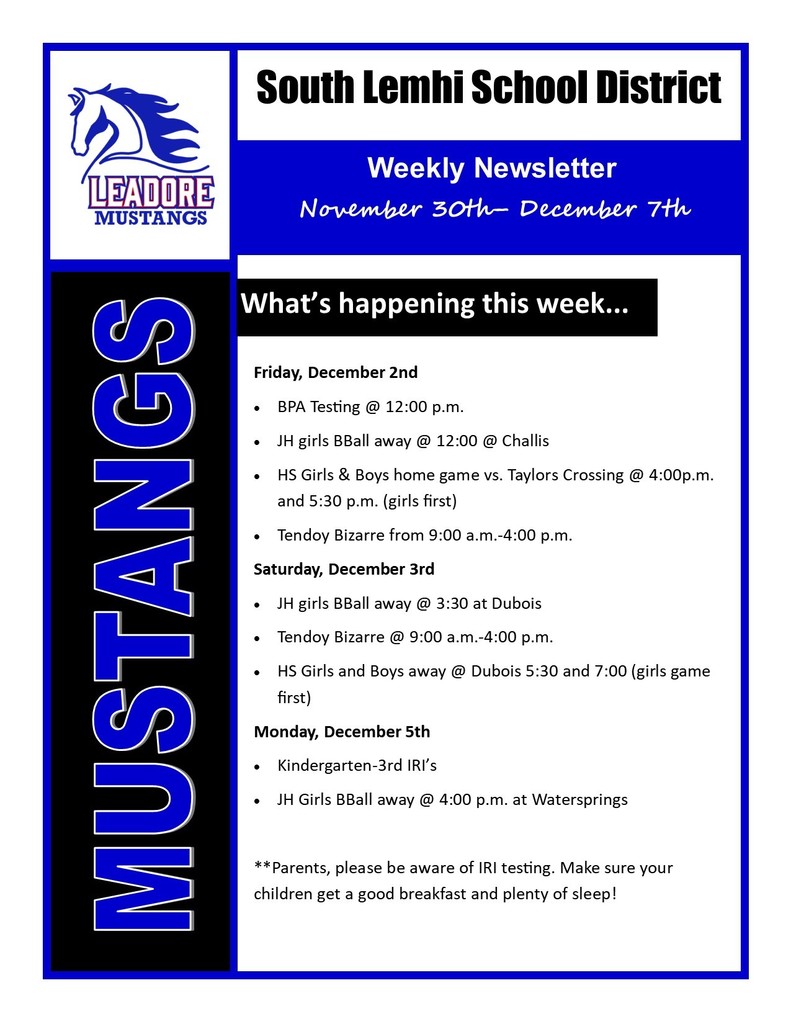 Elementary Basketball begins tomorrow. Fundamentals and fun during the holiday season. Check the schedule and contact Deena or Kortni for details.

Today, Novermeber 21, the district experienced some transportation issues which will take some time to resolve. Tomorrow, November 22, there will be no classes offered within the district. Grades 7-12 will have online course work to do while the Elementary will be given an early holiday. We are sorry for this inconvience and hope you will have a wonderful holiday.

Due to weather related and mechanical issues, the river route will be delayed this morning. If you are able, the district requests you bring your student in or please wait for the bus to arrive. Sorry for the delay. Happy Thanksgiving week!

High School Girls Basketball will be traveling to Mackay tomorrow, November 19th. Games will be played at 6:30 p.m. & 7:30 p.m. Bus will be leaving at 3 p.m. - sharp!

Due to a miscommunication.. The High School Girls game against Grace Lutheran has been cancelled. We will attempt to reschedule.

***Correction to Newsletter*** JHGirls Basketball vs Mackay Home 1pm Saturday, November 19th HSGirls Basketball vs Mackay Away 7pm Saturday, November 19th

Weekly Newsletter of November 16th-23rd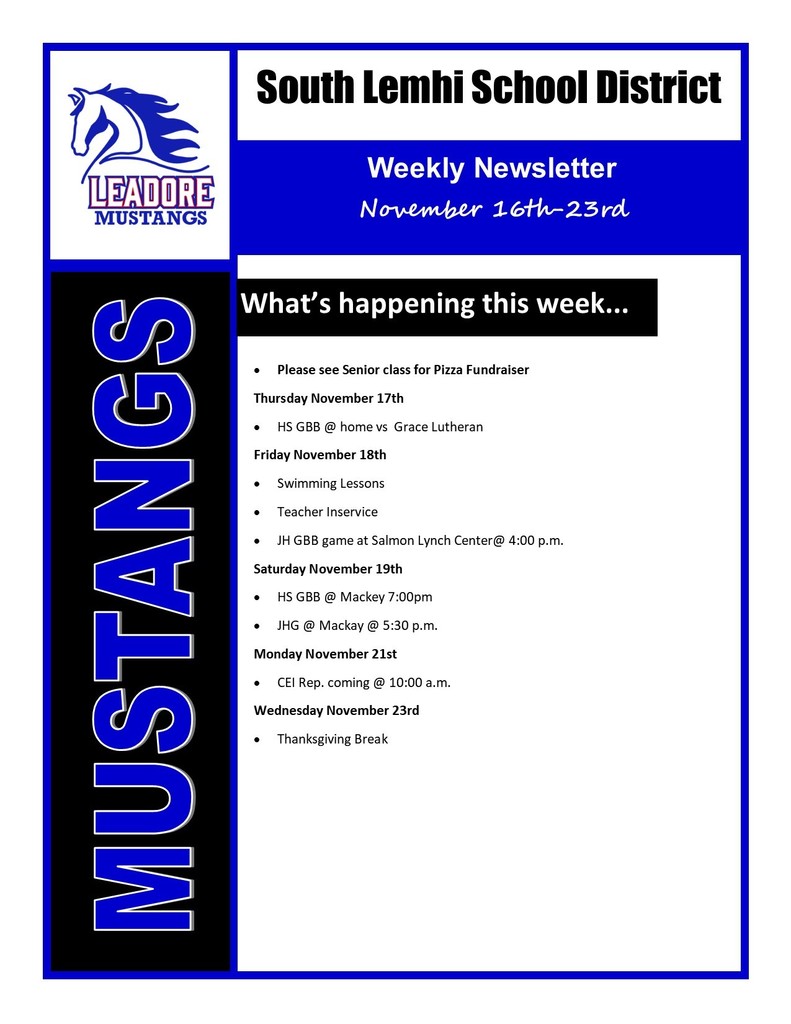 Newsletter for November 9th-16th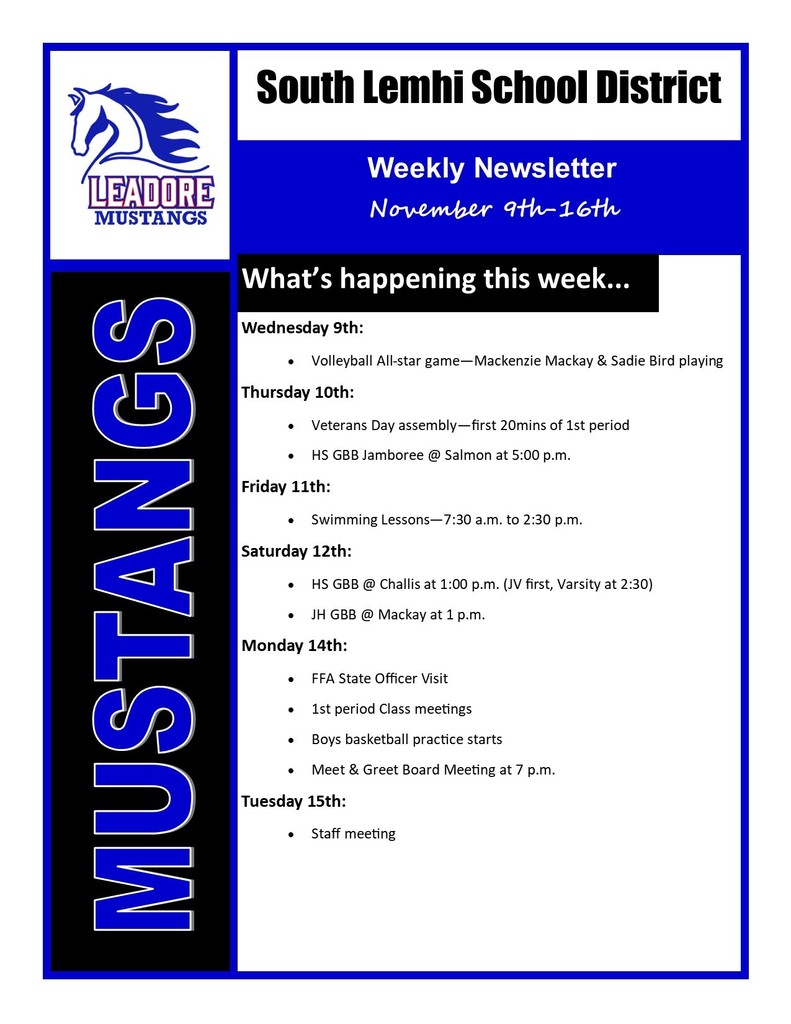 New Leadore Mustangs Instagram!! Go follow for updates, fan fun, and your daily dose of Mustang Spirit! Instagram Account: leadoremustangs

Leadore FFA will be meeting at the Salmon Movie Theater this Thursday, November 4th. Be there at 6:45pm! Members need to contact their officers with any questions.

Parent Teacher Conferences this evening from 4 to 7. Take a moment to visit the school, meet your child's teacher, and talk about how the year is going. A few of our teachers will not be in Leadore so if you need to speak with them, please call to make arrangements. If you would like to meet with Mrs. Ellsworth in Tendoy, contact her to schedule a time. Thank you.

Family Reading Night will be held at the school this year. Bring your family on November 3rd from 5 to 7 in the Multi-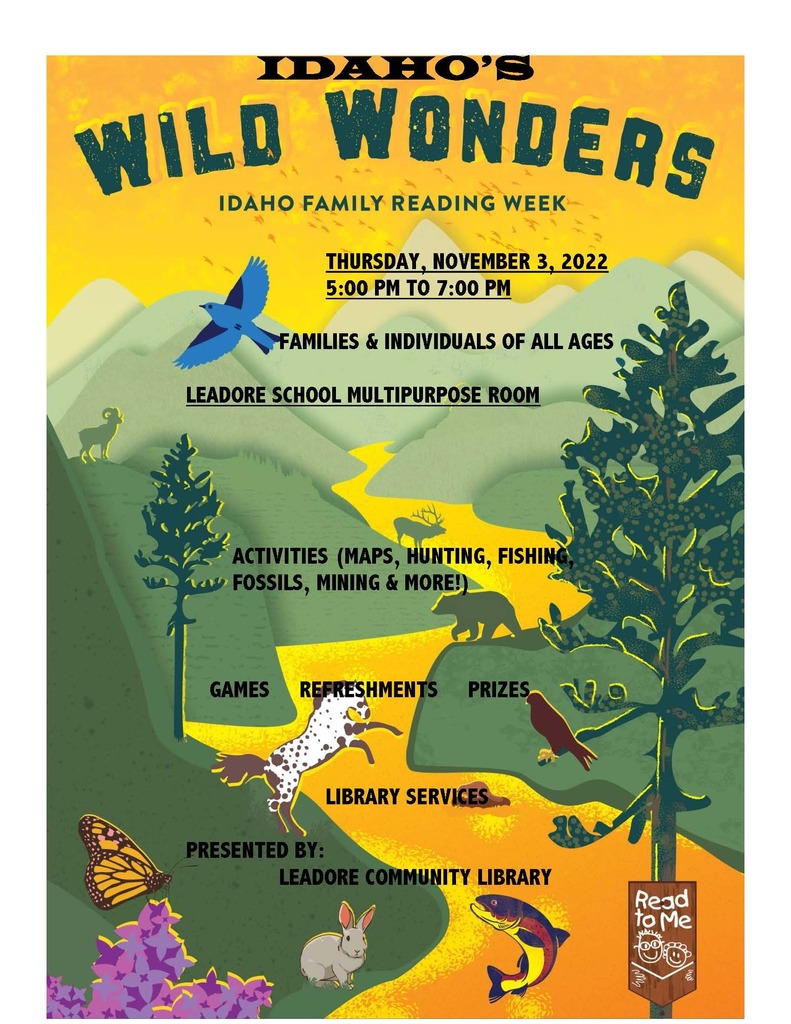 Weekly Newsletter!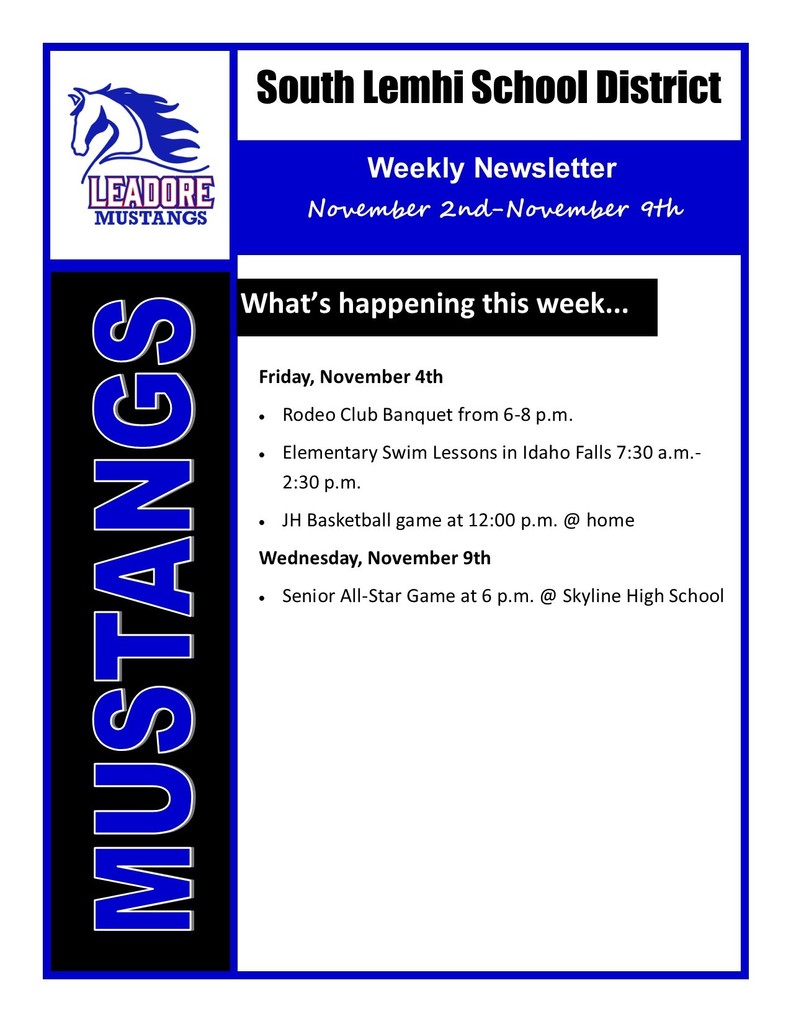 High School Girls' basketball practice will begin on Tuesday, November 1st. Practice will run from 4:00 pm to 5:15 pm, followed by a short team meeting from 5:15 pm to 5:30 pm.

The High School had a spooky field trip Thursday. We traveled to Rexburg/St. Anthony for a college visit and then a trip to a Haunted Mansion and Hospital. It was a great evening with great kids!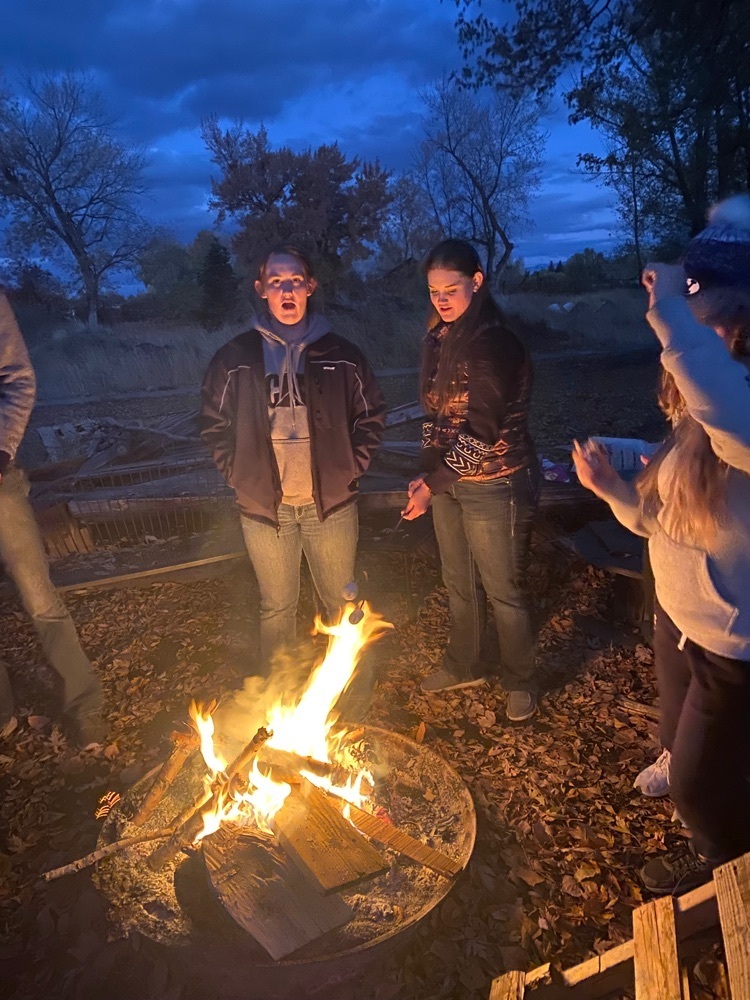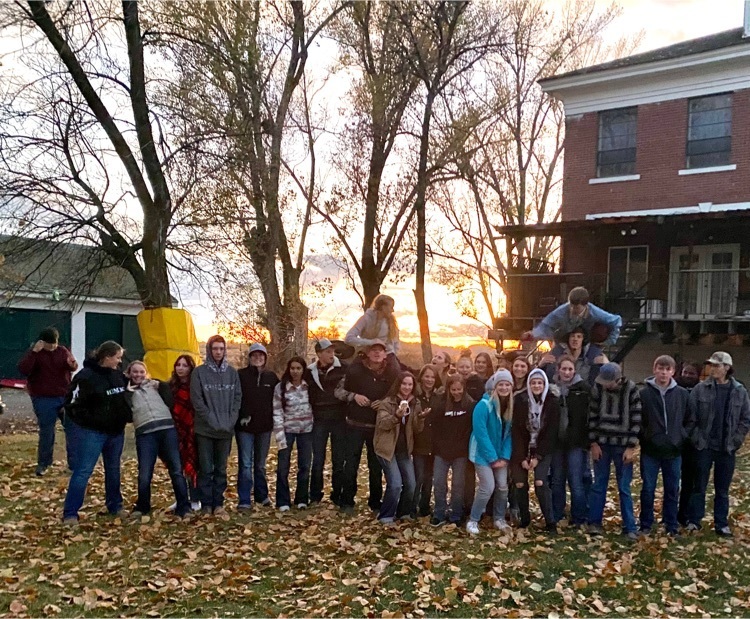 Azelynn Jones and Raymond Lilly represented the Leadore Mustangs well today in Lewiston, Idaho at the State Cross Country Meet. Azelynn finished in 11th place with a time of 20:15.24. Raymond finished in 19th place with a time of 17:08.73. Both athlete's were able to set new personal bests. They also have both taken the top spot on the Leadore Cross Country team's record list. They are coming home with some new hardware, both athlete's placed high enough to bring home a medal! Congratulations Azelynn and Raymond! You represented the Leadore Mustangs well and we are all very proud of your accomplishments.