The Fall Awards Banquet is quickly approaching. It will be held on October 26th. The Potluck dinner will begin at 6 p.m. with the awards to begin at 6:30 p.m. sharp. Dinner assignments have been posted on the attached flyer. Any questions please call the school.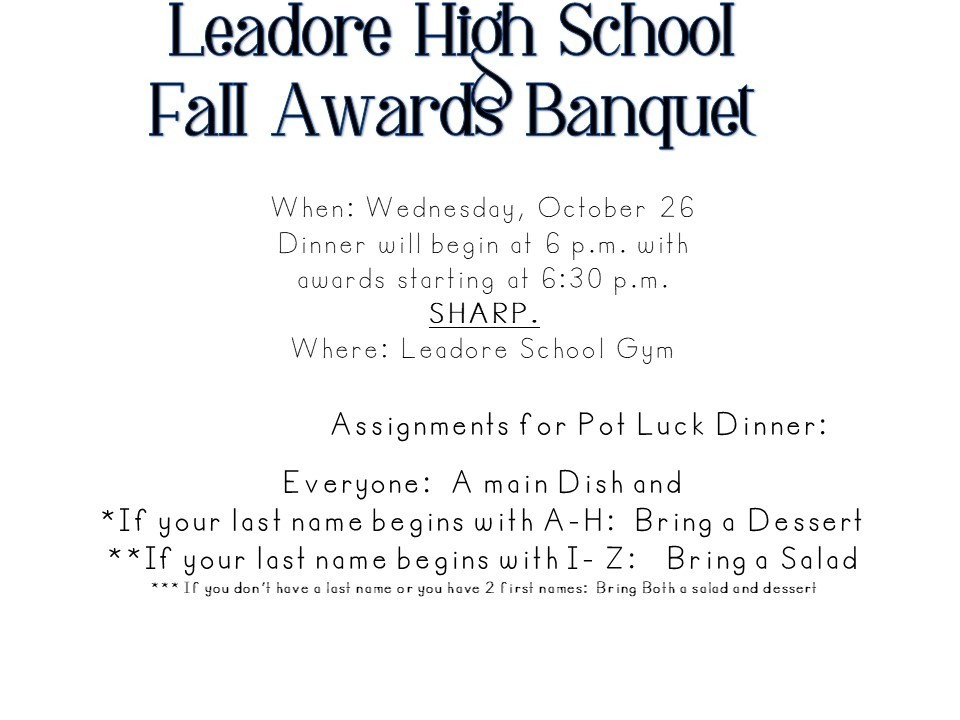 Trunk or Treat October 31st! All kids are welcome to the LDS church after school for a mini carnival and snacks! Community Events start at 6 p.m. at the church, and this year they have more contests! Trunk Judging- Decorate your trunk for a prize in the church's parking lot! Chili Cooking Contest: Bring your best chili to see if you're the top chef! (Kitchen area of the church) Carved Pumpkin Contest- Bring any carved pumpkin for a shot at first prize! (Display tables on church sidewalk) Trunk-or-Treat to follow community events. We hope to see you there!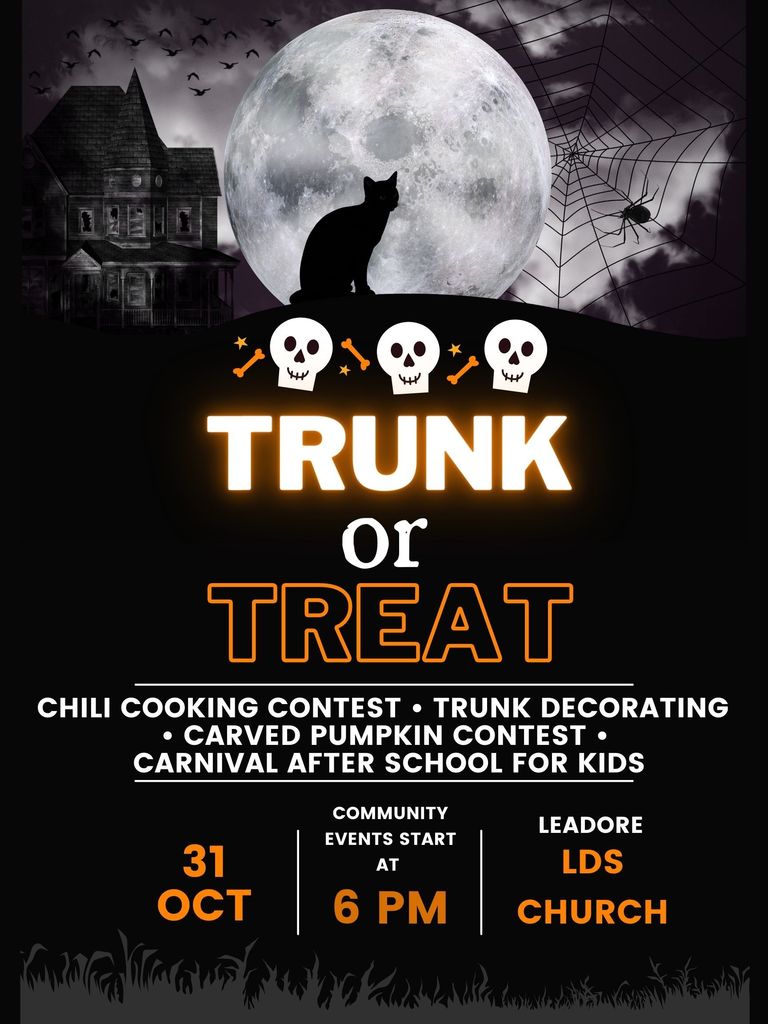 October 12th-20th Weekly Newsletter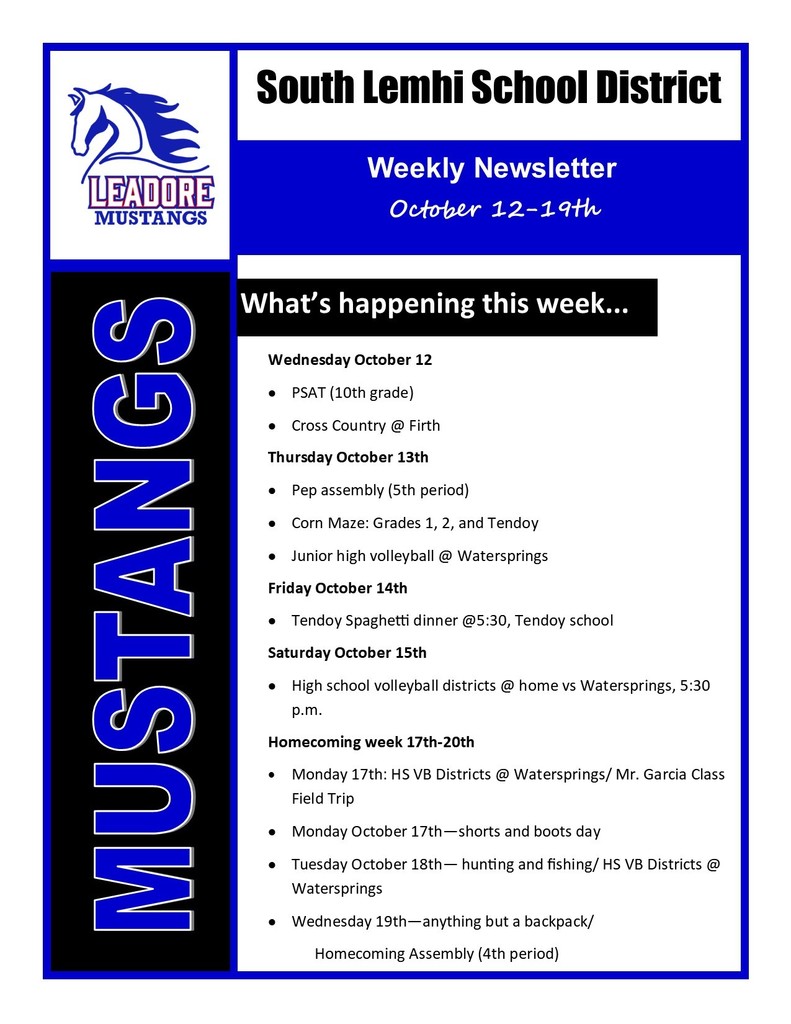 Here is an updated district volleyball bracket for everyone!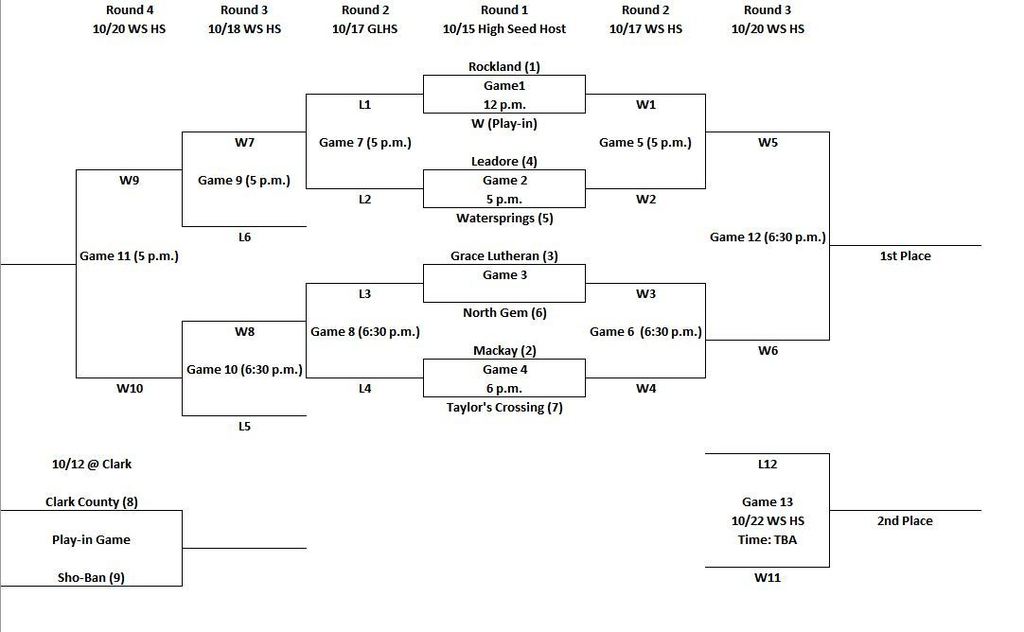 The High School Girls Volleyball team will be hosting their first round district game on Saturday, October 15th at 5 p.m. They will be playing against Watersprings. Come out and show your support for our awesome girls!!


Weekly Newsletter (October 5th- October 12th)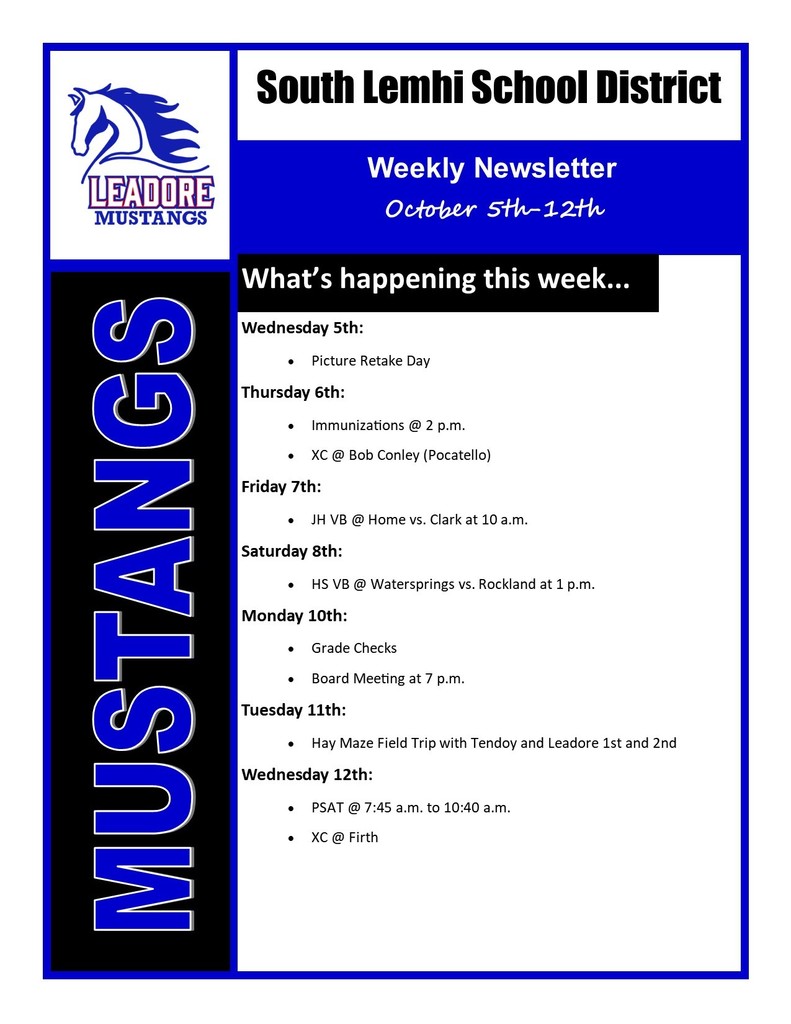 Event: Tendoy Spaghetti Dinner @ the Tendoy School with silent auction. Day: October 14, 2022 Time: 5:30 pm Why: It's a great time.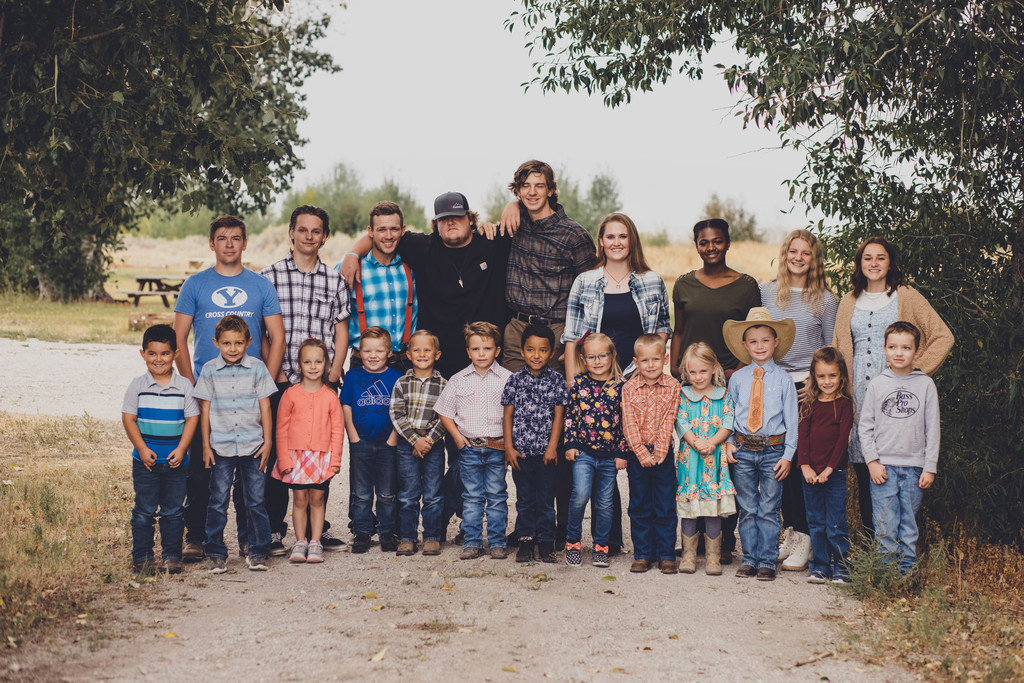 District 7 has rescheduled the immunization clinic at the school for Thursday October 6th at 2pm. If you know of anyone that needs to know of this message please tell them. If you have any questions please call the Leadore School at 208-768-2441

Weekly Newsletter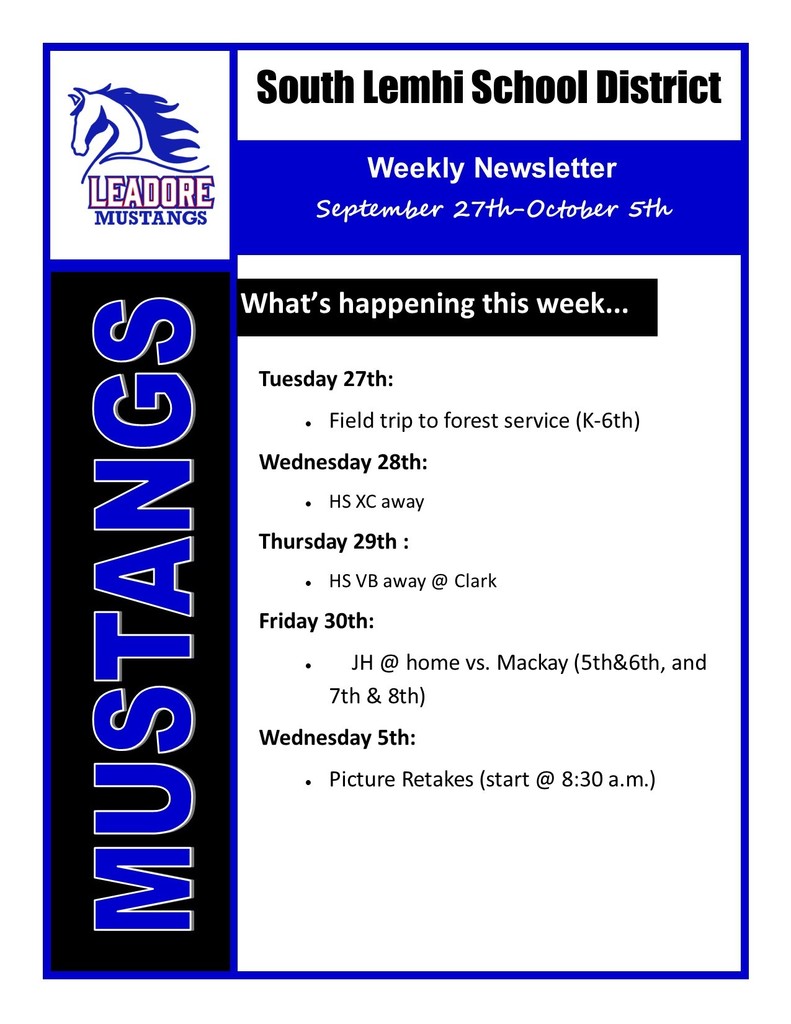 As most of you are aware, we have hired Casey Garcia as an ag teacher this year. He is trying to get the FFA program going again and would like to visit with the parents of the students interested in participating to pass along information about FFA. He invites you to visit with him tonight between home games in the Ag classroom.

Senior Night is tonight! Games start at 3 p.m. Tri meet vs. Sho-Ban & Watersprings BLACK OUT THE GYM and show your support for the Volleyball Girls!

Immunizations have been canceled for tomorrow September 22nd. Sorry for any inconvenience. Watch for a reschedule date.

Newsletter 21-28 September 2022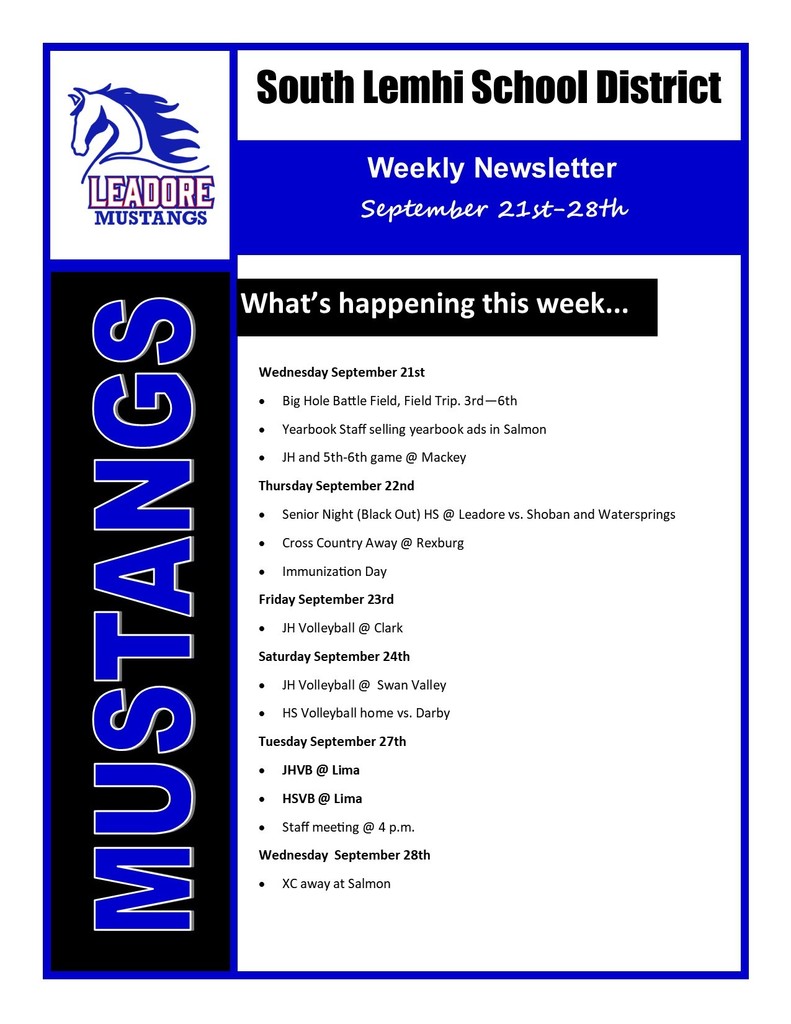 Tomorrow, September 20th Volleyball Games Breakdown 7/8 Volleyball @ Home vs. Salmon 3:30 p.m. HS Volleyball @ Home vs. Challis JV: 5:30 p.m. Varsity: 7 p.m.

Get ready for some volleyball action. Beginning this Saturday, the Lady Mustangs will be home for their next 4 games! Come support the Mustangs by cheering them on, helping line judge, and even selling concessions! (Cross Country will be in Challis, so we are experiencing person shortages) Thank you. Go Mustangs!

I've just been informed that IRI testing will be deferred to Thursday this week because of the delayed start tomorrow and School Pictures.

Reminder: Picture Day is tomorrow September 14th. Retakes will be October 5th.